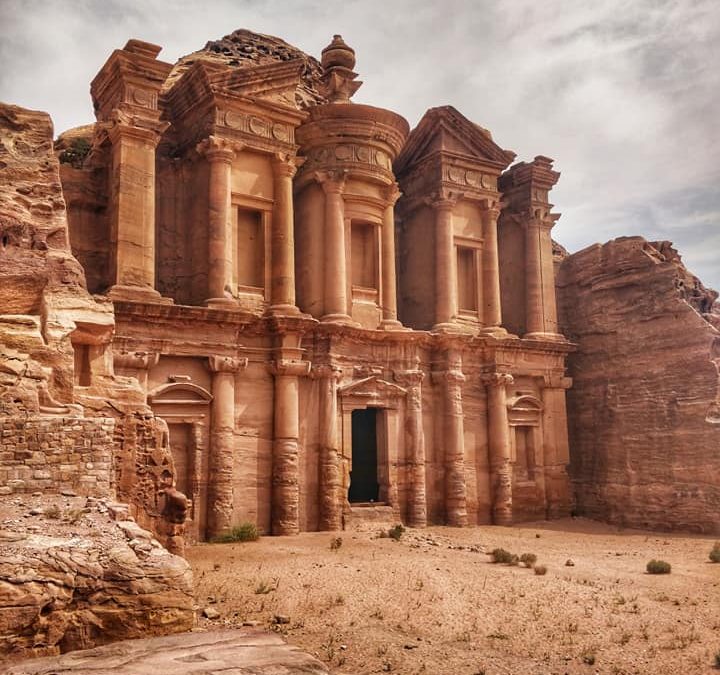 10 Reasons To Visit Jordan Now!
Standing there in front of the Treasury, admiring the colossal structure built by the Nabataeans around 300 BC, I knew why I had chosen Jordan as my second international destination – it doesn't fall on the regular tourist radar, and yet has so much to offer.
To all those people who filled my inbox asking "Why Jordan?", here are 10 things that brought me to this beautiful destination.
1. Visit the Lost City of Petra
Did you know that Petra is one of the new 7 wonders of the world? It's famous for its rock-cut structures and water-channel system. What once was a flourishing city, is now a famous archaeological site that lives to tell stories hidden in every corner. The Siq Trail leading to the treasury is a particularly gorgeous one.
To have a more ethereal experience, take a tour of "Petra by night" where the entire trail is lit up with camps and you get to watch a light and music show that is performed at the Treasury, while sipping on a hot cup of Bedouin tea.
Give yourself at least two days to explore Petra completely as it's huge and has a lot to offer. Hike up to the Monastery and bask in it's grandeur. It's hard to believe that it was carved from a single rock with no advanced technology, back in ancient times.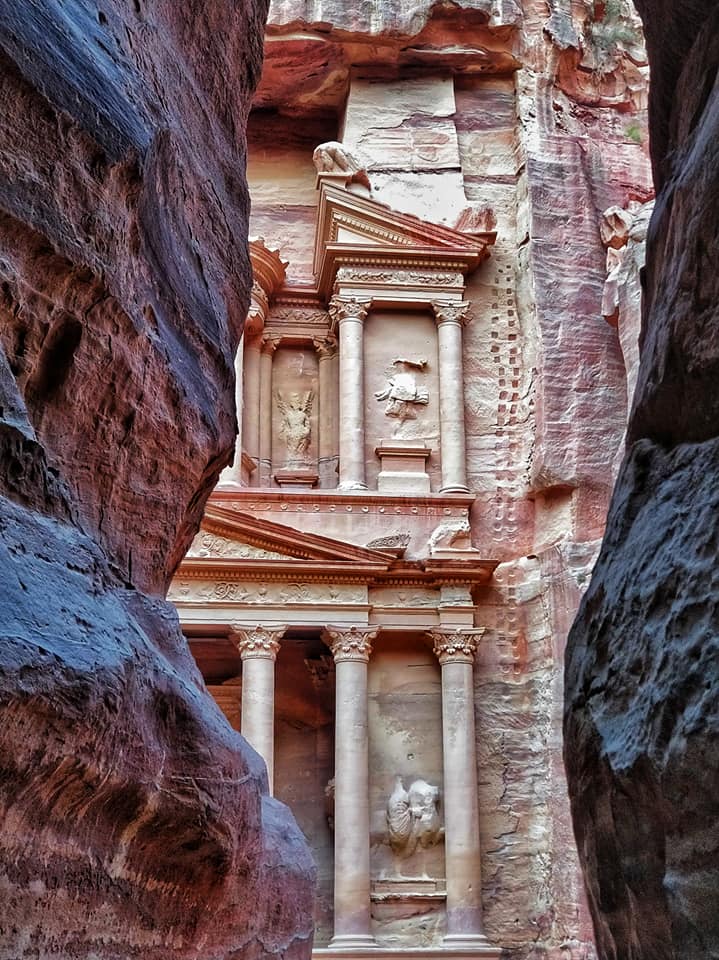 2. Float on the Dead Sea
Ever since I read about it in my school textbooks, I wondered how it would be to float endlessly on the sea. The high salt content in the Dead Sea makes it very easy for anyone to float due to natural buoyancy. But make sure you cover all your cuts and bruises before getting in, because that salt water is going to sting!
Watching the sunset in the background while chilling in the Dead Sea with a mud pack is definitely the best feeling. Once you're done, you can rinse off the dead sea mud, which has a lot of medicinal benefits, in the hot water spring.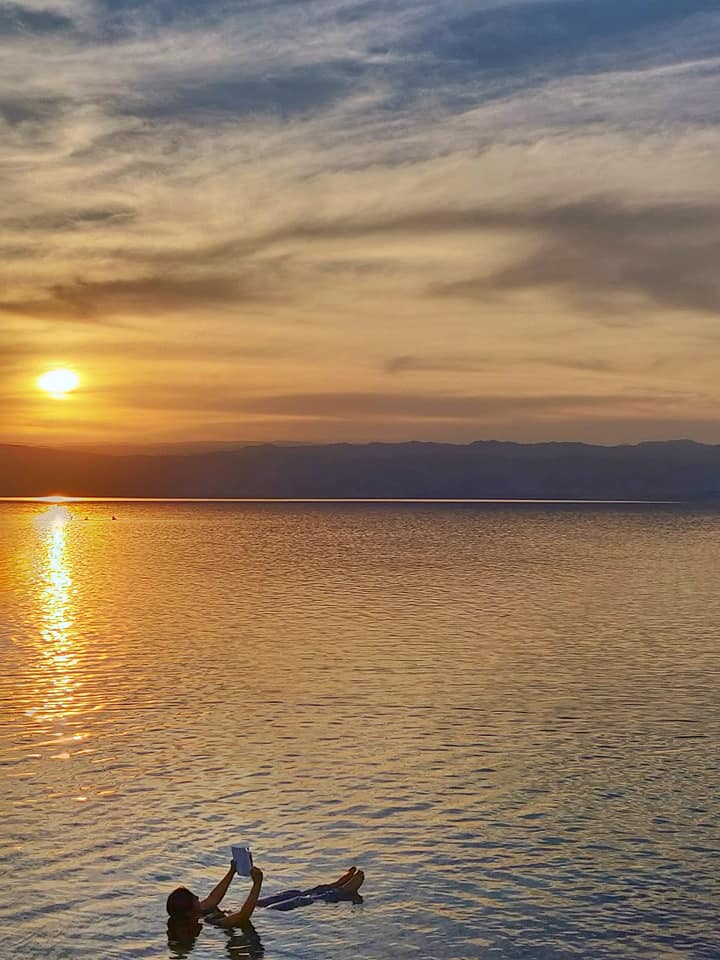 3. Go Wreck Diving in the Red Sea
Driving from the scorching deserts of Wadi Rum to the turquoise blue waters of Aqaba was so refreshing. To our surprise, the Red Sea wasn't red in color, as we had expected. Then we learned that normally, the water is blue in color, but occasionally turns red due to an algae called Trichodesmium erythraeum, which turns the usually blue-green water, reddish-brown once it dies.
Based on how comfortable you are with scuba diving, you can opt for different levels of diving. We were only allowed to dive about 130 ft. deep, and hence opted for the military tank wreck dive. The tank was bustling with marine life and home to several colorful corals. For people with certifications, there is a plane wreck dive which sounded very interesting as well.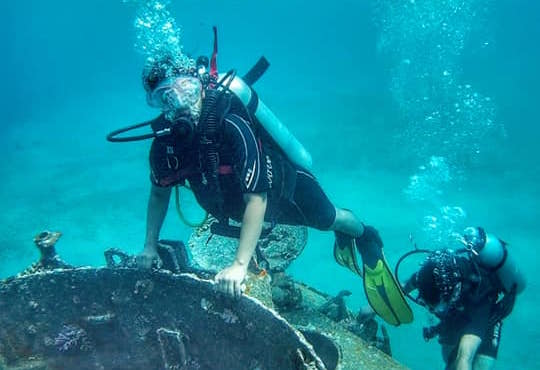 4. Experience Mars In The Deserts Of Wadi Rum
For a "Mars-on-Earth" experience, head over to Wadi Rum. With it's red sand and barren landscape, you'll feel like you've ave stepped onto another planet. The dramatic sandstone mountains and natural arches are fascinating. The most mesmerizing thing to do here is to watch the sun setting over the desert and the sky turning all kinds of red.
You can book yourself a glass dome or stay in Bedouin tents depending on your budget. We booked a package that included a day-tour of the desert, a Bedouin dinner and an overnight stay in a camp. The Bedouin dinner is cooked underground with the help of heat that gets captured in the sand particles. We were all awestruck and excited to see our food emerging from the ground.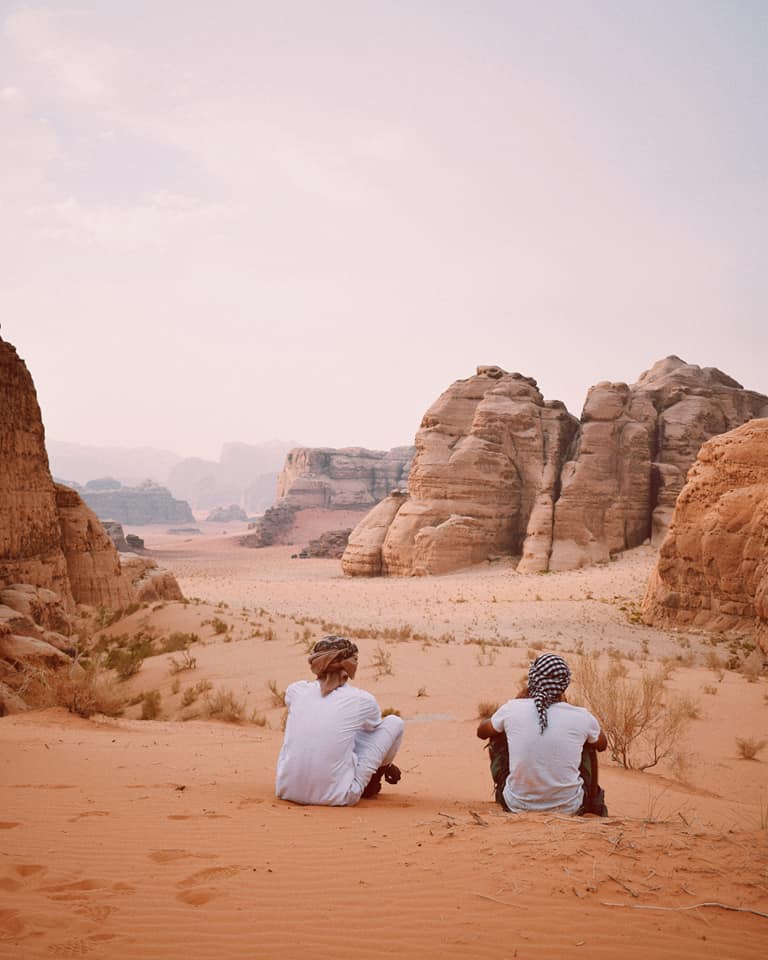 5. Try Canyoning In Wadi Mujib
This caught my eye when I started my research on Jordan, and is definitely the main reason why I chose this country. Canyoning was a first-time experience for me and I would definitely recommend this to everyone visiting Jordan.
Imagine canyons with narrow trails in between gushing with water. The water levels get low as you move forward and the flow gets faster. To easily cross the streams, there are bars and ropes installed. They even have guards who help you out with the tricky bits.
For those of you scared of water, you can hire a guide like we did. The 2 km trek ends with a waterfall where you can try cliff jumping or just swim in the natural pool. Coming back requires you to slide down, jump off and lie down on your back and float with the water current.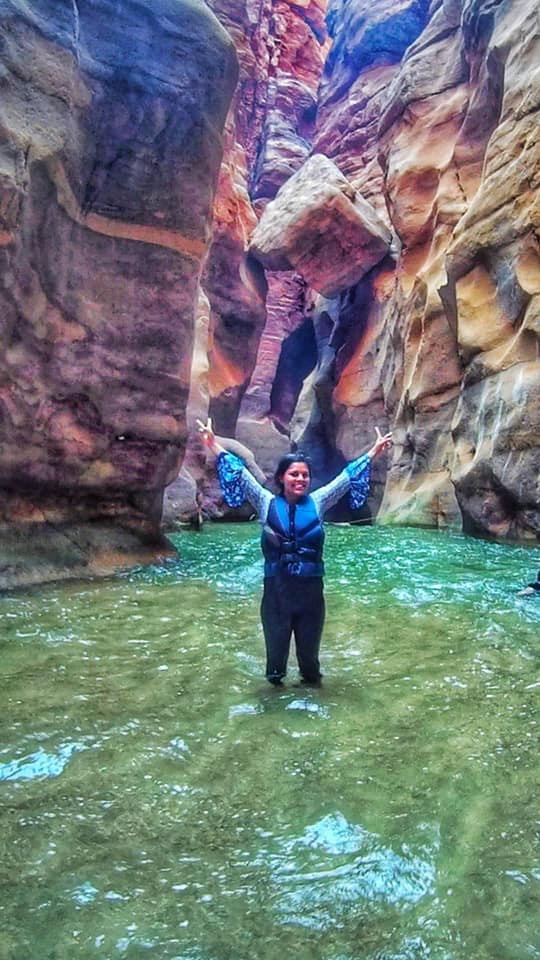 6. Explore Roman Ruins In Jerash
48 kms away from the city of Amman, lies Jerash – the city of Roman ruins which was once a bustling city. It is said to have the best preserved Roman ruins outside of Italy. This can be covered as part of a day trip from Amman.
The city is home to some of the finest pieces of Greco-Roman architecture that got destroyed during an earthquake in 749 AD, and was buried under soil until excavated by the German Explorer Ulrich Jasper Seetzen in 1806. Since then, it has become a major tourist attraction. Some of the notable sites include temples, theaters, food markets, stadiums etc. Make sure to carry sunscreen, water, caps and umbrellas as the sun shows no mercy here.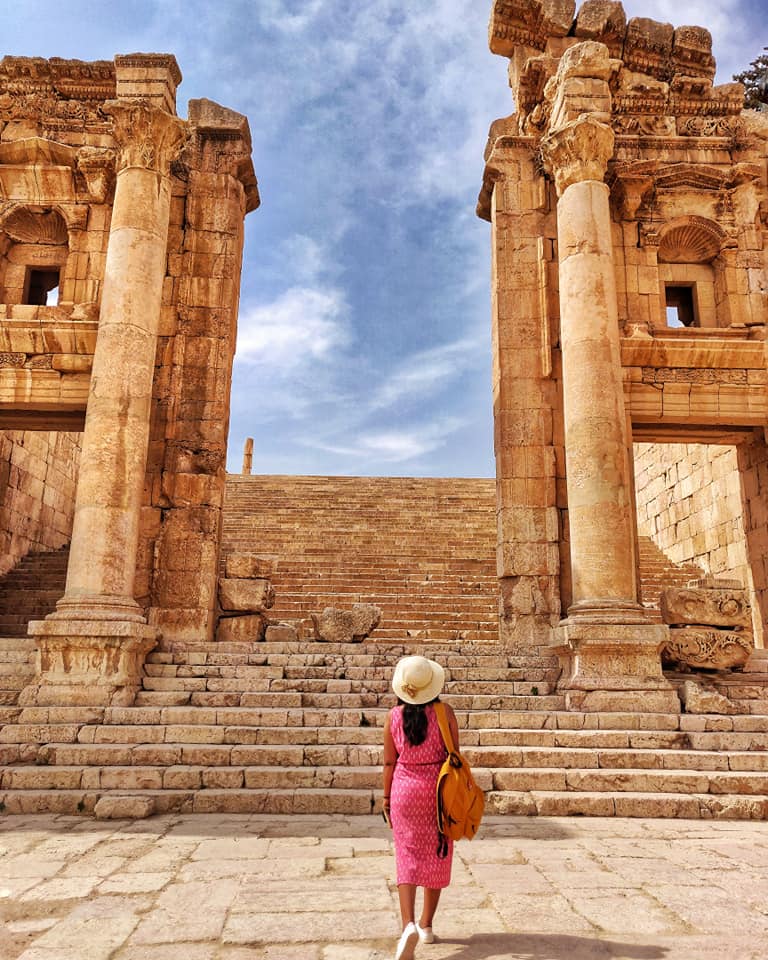 7. Visit Amman Citadel
The Citadel is situated on the top of a hill, 850 m above sea level, overlooking the old city of Amman. This dates back as far as the Bronze Age. The main attractions are the Hercules Temple, The Umayyad Palace and the Byzantine Church. The Museum holds many important artifacts from the Citadel and other Jordanian sites. It has some of the oldest statues made of lime, plaster and reed.
After you're done exploring the Citadel, you can walk down to visit the Roman Amphitheater.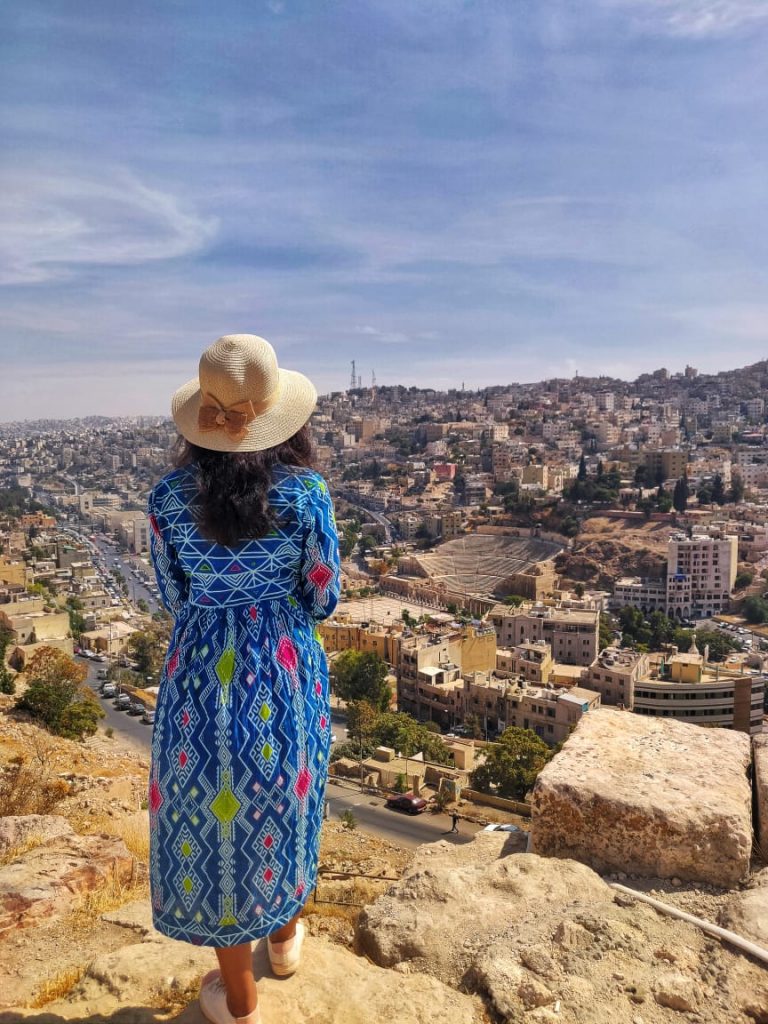 8. Try Jordanian Food
No Jordanian meal is complete without a cup of tea. You'll be offered tea for free at the end of the meal in a lot of restaurants. Tea is a very popular beverage and is part of their hospitality.
If you're a non-vegetarian, you have landed in food heaven. There are plenty of options here, but I must warn you that the Jordanian portion size is huge! Two of us struggled to finish just one dish.
Be sure to try the national dish of Jordan, Mansaf. It's a traditional dish made of lamb, cooked in a sauce of fermented dried yogurt called Jameed and served with rice or bulgur.
For vegetarians, rest assured that you won't starve! Visit the famous Hashem's in Downtown Amman and gorge on some delicious hummus, falafel, pita bread, and fuul with a side of salad. To satiate your sweet-tooth, don't forget to get a taste of Kunafeh and Baklava.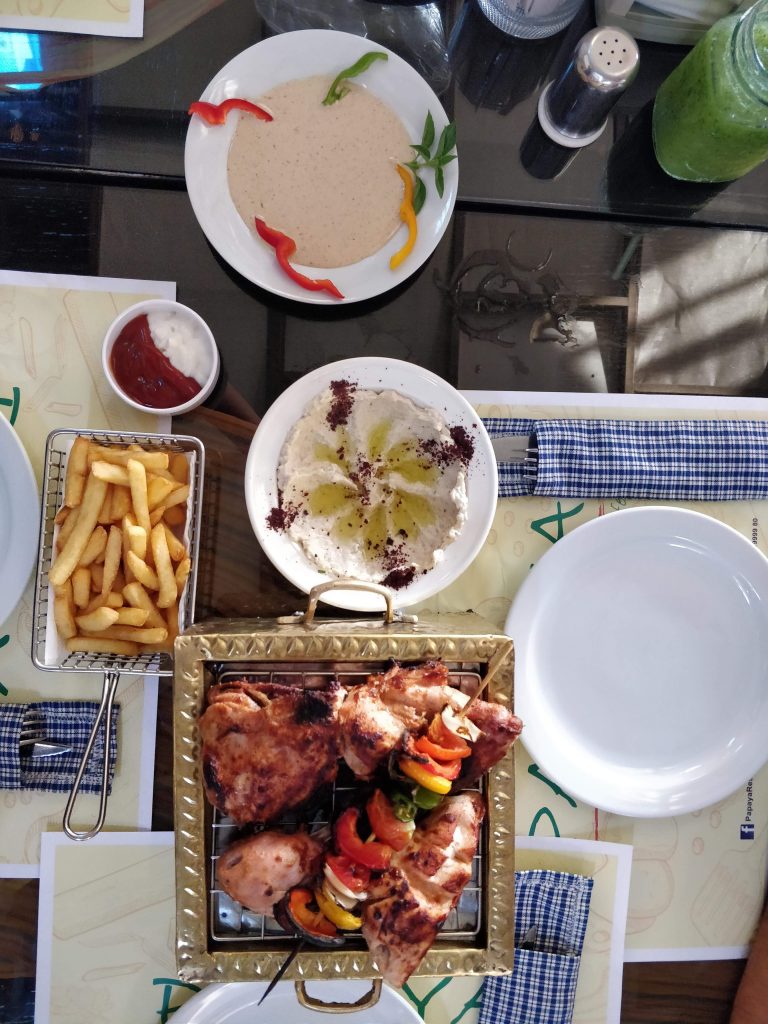 9. Bask in Jordanian Hospitality
I was asked if Jordan was safe to visit. We were two girls and not even for a moment did we feel unsafe in this country. People were friendly and eager to help us. They made sure that we felt at home and had a great time.
A shopkeeper from Jerash invited us into his shop where he told us about his country and what places we shouldn't miss out on. He even gave us gifts from his shop as a friendly gesture. Our hostel manager helped us find public transport by writing a note in Arabic. Our guide in Wadi Rum shared his stories about growing up in the area and how he purchased his new car. Our Scuba instructor shared his experiences from the time he visited India and also ensured that we all felt absolutely safe diving with him.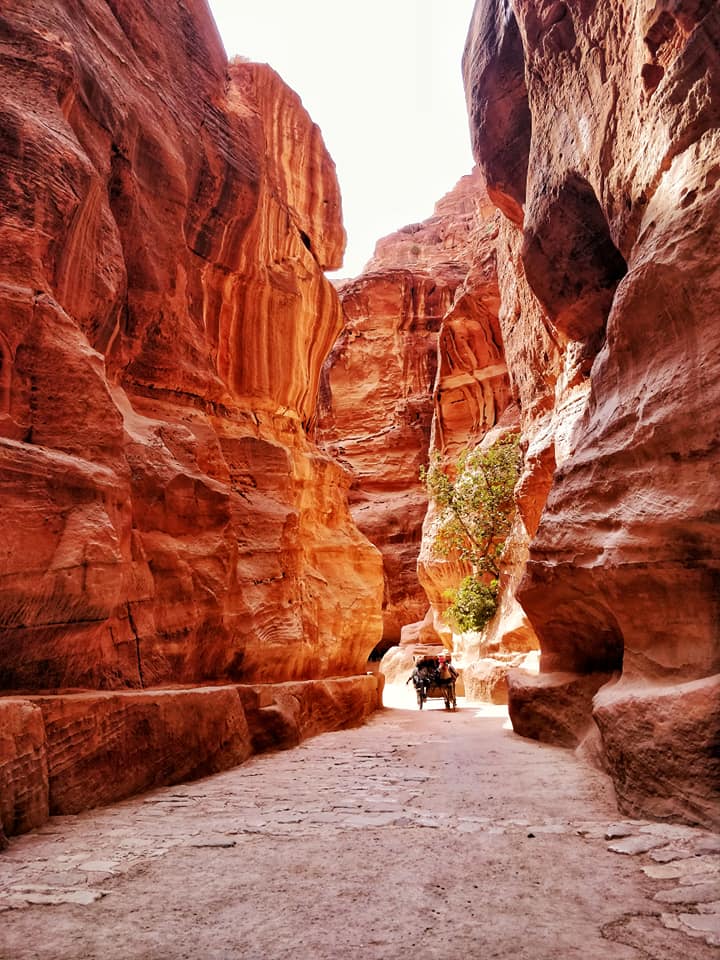 10. Enjoy A Budget-friendly Vacation
The currency of Jordan, the Jordanian Dinar, is stronger than the USD (1JD = 1.4USD), which makes one think that it can't be visited on a budget. But with careful planning, staying in hostels and using public transport, it IS possible to not burn a hole in your pocket. We were able to finish our 8 day trip within 1000 USD including flight tickets from India to Jordan!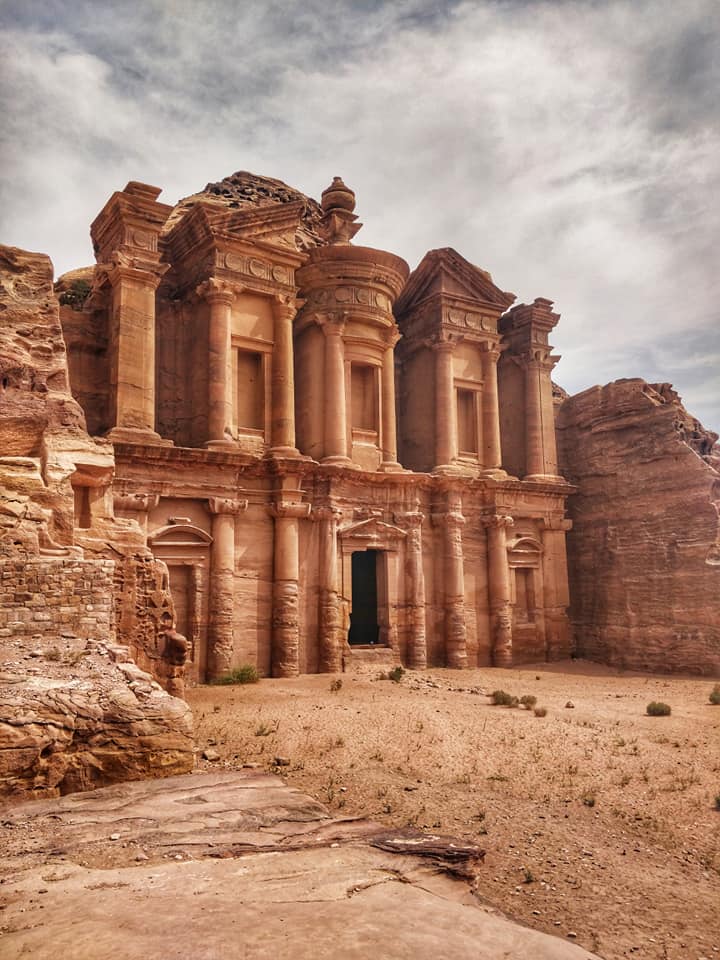 So there you have it! These are the 10 reasons why I chose Jordan for my dream vacation. If you're thinking about visiting this fascinating country, my advice would be – don't think twice!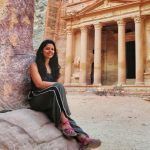 An adventurer by heart, Megha looks for experiences while traveling instead of luxuries. She prefers to skip that private taxi and use local transport, risk eating roadside food instead of indulging in fancy restaurants, or ditch that five star hotel for a hostel bunk. Megha wants to travel to her heart's content and live without regrets.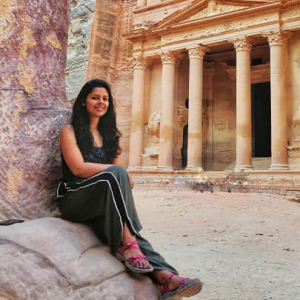 Megha Goel
An adventurer by heart, Megha looks for experiences while traveling instead of luxuries. She prefers to skip that private taxi and use local transport, risk eating roadside food instead of indulging in fancy restaurants, or ditch that five star hotel for a hostel bunk. Megha wants to travel to her heart's content and live without regrets.